This is an accordion element with a series of buttons that open and close related content panels.
What is going to be in the Production System?
The table below includes the data elements that will be stored in PlanUW.
| Data Element | PlanUW Naming | Source of Data Element |
| --- | --- | --- |
| FY17 Actual (Revenue and Expenditures) | 2016 – 2017 Actual Final Total Year | SFS |
| FY18 Actual (Revenue and Expenditures) | 2017 – 2018 Actual Final Total Year | SFS |
| FY19 Actual (Revenue and Expenditures) | 2018 – 2019 Actual Final "Month YTD" | SFS |
| FY19 Budget (Redbook) | 2018 – 2019 Budget Final Total Year | Redbook that was inside of 3270. |
| FY19 Adjusted Budget | 2018 – 2019 Budget Revised Budget Total Year | SFS Budget Ledger transactions associated with Scenario codes: REDBOOK, PY_ENC, CARRYOVER, ADJUSTED, EXTENSION, REALLOC, BLOCKGRANT |
| FY20 Budget | 2019 -2020 Budget Working Total Year | Plan UW entry by end user as well as Salary and FTE budget entries from CAT |
| Planning Allocation Targets | PA – Budget Allocation Final | Planning Allocation System |
What systems are integrated with PlanUW and what is the frequency of integration?
PlanUW is integrated with multiple UW source systems. The table below outlines those source systems and the frequency data will be pulled from them.
| Integration | Frequency |
| --- | --- |
| CAT to PlanUW | Nightly |
| PA to PlanUW | Nightly |
| SFS Actuals to PlanUW | Monthly (13th day) |
| PlanUW to PA | Nightly |
| PlanUW Budget to SFS | TBD |
| Combo edit checks | Nightly during budget season. Process to communicate with Divisions still under review. |
| Metadata refresh - Accounts | Monthly |
| Metadata refresh - Departments | Weekly (Sunday) |
What is the frequency of the data integration from CAT to PlanUW?
To better assist our users who would benefit from a "live" connection, PlanUW will run an integration with the Compensation Administration Tool (CAT) three times a day which has an average load time of 2-3 minutes.
Integration Times:
In the event you happen to be working in CAT and click "save" as the integration is in the process of running your work will be picked up in the next integration cycle.
What is the new Budget Account mapping?
What is a Webform?
Purpose:
A formatted, purpose built database 'view' for inputting or reviewing data.
Structured similar to an Excel 'grid' view (rows, columns, page drop-down menus).
Represents the main way in which users work with the tool
Scope of Use:
Can (and should) be used for a wide variety of purposes:
Data input (lots of features)
Data analysis (even more features, can be used as mock reporting)
Workspace dashboards (combined input with immediate analysis)
Execute Calculations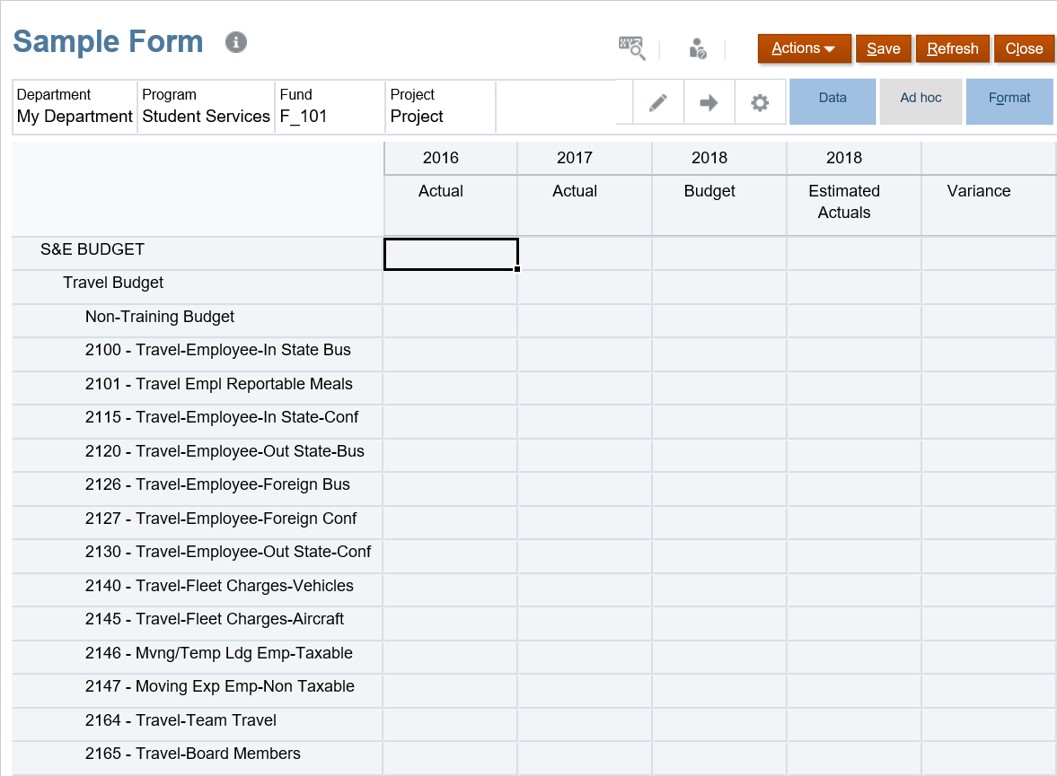 What is a Dimension?
Dimension:
A Dimension is the hierarchical organization of a segment(s) of your GL Chart string.   Similar to your CoA trees within SFS or WISER.
Example: Units, Divisions, Departments and Sub-Departments roll up to create the Department dimension.
Member:
Dimension Members are used to identify a data item's position and description within a dimension, and they in turn make up a Dimension
Example:  Sub-Department UWMSN_011010 is a member within the Department Dimension.